Montgomery County Homes
WELCOME TO MONTGOMERY COUNTY PA
Real Estate in Montgomery County PA
Montgomery County also referred to as "Montco" is comprised of areas of farmland and densely populated neighborhoods. In 2008 Forbes ranked Montgomery County as the 9th best place to raise a family, the new online ranking Niche.com voted 24 of Montgomery County's neighborhoods as best towns to raise a family. In 2010, Montco was the 51st wealthiest county in the country and is the second-highest-income Pennsylvania county by per capita income. From sprawling multi-million-dollar estates to modest 2, 3, 4 bedroom homes, condominiums, town-homes and more; Montgomery County offers you endless possibilities in finding your dream home.
Education in Montgomery County PA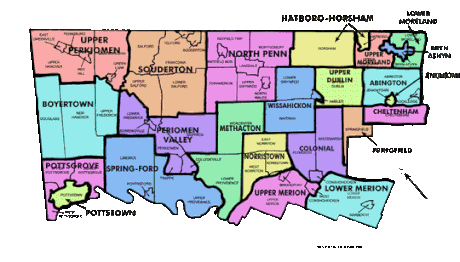 There is a total of 156 public schools in Montgomery County. Numerous schools located in Montgomery County have been selected as Blue Ribbon schools many times over the years. Selected in 2017 was Gwynedd Mercy Academy Elementary in Spring House.Colleges located within Montgomery County are Montgomery County Community College, Saint Joseph's and Arcadia University, Bryn Mawr and Ursinus College, Pennsylvania State University (Abington Campus).
Things To Do in Montgomery County PA
There are over 6000 acres of preserved land which include 9 parks, 60 miles of regional trails for fishing, boating, biking, hiking, jogging and walking. Enjoy a picnic at one of your local parks, have the kids enjoy the local playgrounds or take the dog for a catch. Visit Valley Forge Historical National Park: the site of the Revolutionary war and Washington's Headquarters. There are over 50 golf courses throughout Montgomery County.
Travel and Vacationing in Montgomery County PA
Montgomery County offers you prime location to travel easily. The Philadelphia International Airport is located about 35 miles outside of Montgomery county or charter a small plane out of Wings Field located in Blue Bell. A 1.5-hour bus or car ride will land you in Atlantic City and the New Jersey beaches which offer a great weekend or weekly getaway. Come here for a concert, gambling, shows, walk the boardwalk, bars, restaurants have fun in the sun or just relax. Want to ski, go snowboarding, zip-lining, fishing, or canoeing; then head 1.5-hours north to the Poconos. Rent a cabin for a week, stay at a lodge for a weekend or just drive up for the day. You could be in Delaware in an hour and visit their beaches and enjoy tax free shopping. Jump on a train and be in Washington DC in 2 hours or New York City in 1.5 hours.
Shopping in Montgomery County PA
Visit the King of Prussia Mall which has over 450 stores and restaurants, making it the largest retail mall in the United States. Recognized for being the oldest retail shopping center is Suburban Square, located in Ardmore. Enjoy open air retail shopping, dining along tree lined sidewalks or enjoy fresh food and produce from the local farmers market. Spend the day at Skippack Village visiting boutiques, antique shops, art galleries and enjoy 5-star dining. Drive to Main Street in Ambler and shop the many family owned boutiques for handmade jewelry, clothing, antiques and more.
Restaurants in Montgomery County PA
From International fine dining cuisine to farm to table, Montgomery County has it all. Enjoy seasonal ingredients fresh from local farmers by dining at Harvest Seasonal Grill and Wine Bar located in North Wales. Begin with a glass of wine or enjoy an organic beer. Indulge in Grass fed flat-iron steak with a side of organic rice. Stop by the Farmers Daughter in Blue Bell and try their crab & shrimp cheese dip or a flatbread loaded with blueberries, caramelized onions, honey and feta cheese. Looking for Mexican? Cantina Feliz, located in Ft. Washington offers you an authentic Mexican dining experience from their tequila cocktails to fresh tortillas to the perfect fish tacos. Travel to Gwynedd and experience The William Penn Inn founded in 1714 offering an upscale American Continental dining menu.
Historic Sites in Montgomery County
There are 4 county historical sites to visit in Montgomery County. The John James Audubon Center at Mill Grove which was the home of famous artist, author and naturalist John James Audubon. His stone farmhouse was built on a 175-acre estate in 1762 and is listed on the National Register of Historic Places. His home is now a museum where you can view his original oil paintings and prints. While you visit you can take a walk along 7 miles of trails and discover the wildlife from birds, rabbits, deer and more. Visit Pennypacker Mills a1900's historic mansion originally built in 1720 surrounded by 170 acres. The mansion is filled with artifacts and memorabilia from early Pennsylvania history and The Revolutionary and Civil Wars Step back in time at the Peter Wentz Farmstead which was built in 1758 by Peter and his wife Rosanna. In 1777 the Wentz home became a temporary headquarters for George Washington and his staff during the American Revolution In 1969 the county purchased the property and it was restored to the Revolutionary era. Costumed interrupters will give you a guided tour and you can see the many farm animals currently living on the Wentz property. Visit the Pottsgrove Manor a historic house museum from the 18th century built in 1752 by John Potts who was a local iron-master and merchant.