Chester County Homes
WELCOME TO CHESTER COUNTY
Real Estate in Chester County PA
Chester County is in southeast Pennsylvania approximately 25 minutes south of Philadelphia. As a result of Chester Counties exceptional quality of life, it is ranked one of the top five counties and one of the wealthiest in the country. When you think of Chester County you think of sprawling horse farms and famous Thoroughbred race horses such as Smarty Jones, Barbaro, and Lil E. Chester County is an equestrians haven; from the famous horse farms to The Devon Horse Show to Olympic riders who call Chester County home. There are 73 municipalities,15 boroughs, and 57 townships that offer the home buyer a range of choices to choose from such as, historic farmhouses, small gentleman farms, newly constructed modern homes, town-homes and more.
Education in Chester County PA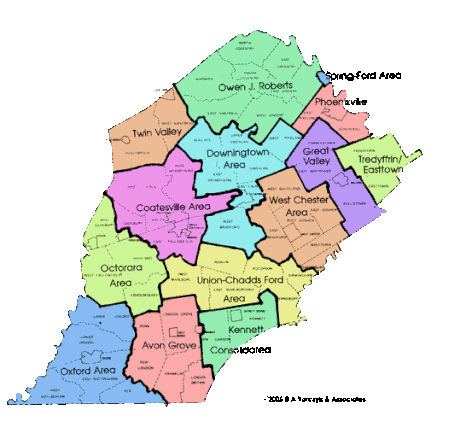 Chester County is comprised of 12 public schools districts K-12. 6 Universities call Chester County home. Cheyney University of Pennsylvania (partially in Delaware County) Delaware County Community College, Immaculata University, Lincoln University, Pennsylvania State University, University of Valley Forge, and West Chester University.
Things To Do in Chester County PA
You will not run out of things to do in Chester County. Hiking, biking, horseback riding, canoeing, camping, fishing, hunting or enjoy a picnic are offered at the counties six parks located throughout Chester; Hibernia, Nottingham, Warwick, Springton Manor, Black Rock Sanctuary, and Wolf's Hollow. Visit Kennett Square a national historic town – known as the mushroom capital of the country. In Kennett Square you will find crafts, handmade jewelry, home goods, antiques, specialty shops, mushroom-related gifts, clothing and winery boutiques, eateries, cafes and restaurants. Spend a day strolling through Longwood Gardens a world premier horticultural display featuring 1,077 acres of manicured gardens, woodlands, meadows, fountains and exhibits. Spend an afternoon at the American Helicopter Museum and Education Center in West Chester a premier aviation museum devoted exclusively to helicopters. See the annual Devon Horse Show and Country Fair located in Devon and originating in 1896 is the oldest and largest outdoor multi-breed competition horse show in the United States and is held in late May to early June. The annual Dressage at Devon is also held at the show grounds at the end of September. Visit Chaddsford Winery the largest winery in Pennsylvania. See barrel-aging cellars, enjoy wine tastings or attend The Vitner's Table event for a 5-course meal accompanied by Chaddsford's premium wines. If you have a craving for the casino scene you can stop in Harrah's Philadelphia located in Chester.
Travel and Vacationing in Chester County PA
Chester County is serviced by Southeastern Pennsylvania Transportation Authority (SEPTA) and Amtrak. Railway stations include service to Philadelphia, Harrisburg and the northeast rail corridor. Philadelphia is approximately 25 minutes away by car. You can travel to Baltimore, Washington D.C. and New York City in about two hours by car or train. In an hour you can be in Amish country in Lancaster for shoefly pie and some outlet shopping. In the summer, Delaware beaches and the New Jersey shore are about two hours away. Interested in skiing, snowboarding, zip-lining, fishing, or canoeing; then head 2 hours north to the Poconos.
Shopping in Chester County PA
The QVC Studio Park studio store located in West Chester offers popular brands and products such as beauty, jewelry, fashion, fashion accessories, kitchen, home decor, and authentic QVC Studio Park logo gear. Visit the King of Prussia Mall which has over 450 stores and restaurants, making it the largest retail mall in the United States. Or shop at any specialty store throughout the county for your one of a kind find including West Chester, Kennett Square, Phoenixville or Exton.
Restaurants in Chester County PA
If you want to eat at dinner at Talula's Table located in Kennett Square, you will need to make a reservation a year in advance. An intimate BYOB offering a seasonal eight course menu of Farmtable style to only one group between 8-12 guests an evening. Enjoy fine dining at Phoenixville's own BYOB Majolica. Majolica also offers private parties, demonstrations and the chef will even come to your home and prepare a mean for you and your guests. Craving chocolate? Stop in Eclat Chocolate located in West Chester and enjoy truffles which have been called "Best in America" by Bon Appetit or enjoy a Mendiant such as their Aleppo Pink Peppercorn which offers a subtle heat provided by chili grown in Syria's famed Aleppo Valley.